Lava, Amethyst and Alloy Stone Buddha bracelet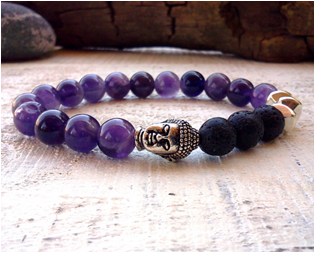 Lava, Amethyst and Alloy Stone Buddha bracelet
Lava, Amethyst & Alloy Beaded Stone Buddha bracelet. 
Lavender color with black lava beads, silver beads & stainless steel Buddha bead.
7 mm beads x 7.5 in  -   Expandable
Unisex bracelet, ideal for stacking.

Buddha head bead is symbol of peace and serenity. 
Purple beads symbolize calm and the fostering of self acceptance and self confidence.
Purple beads are also said to clear energy.