Tigers Eye and lava beaded stone bracelet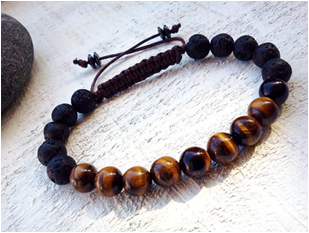 Tigers Eye and lava beaded stone bracelet
Tiger's Eye and Lava beaded stone bracelet with adjustable string closure
8 mm beads 7.5" - Draw-cord adjustable
Unisex bracelet, ideal for stacking.
Black beads symbolize protection against negativity and negative energy.  
Tiger's eye symbolizes protection and grounding and is said to help increase confidence inspiring you to accomplish goals.